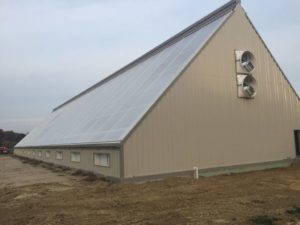 As a leader in the custom metal buildings industry, Robertson Building Systems provides quality metal buildings designed to handle all indoor growth facility needs. Robertson's insulated metal panels (IMPs) are composed of an advanced mineral core between panel faces, providing buildings with increased insulation that significantly reduces heating and cooling costs. These panels are also able to withstand the consistent humidity required for the cultivation process, the intense water pressure needed for sanitary maintenance, and the effective prevention of product contamination. In addition to the ideal use for energy efficiency and weathertightness, IMPs can also provide up to a three-hour fire rating.
Robertson buildings can be customized to fit any special project needs. The patented Long Bay System provides up to 20 m (65 ft) of clear span area between bays, which allows for ample space for crop rotation. Special drainage requirements can be met along with recessed spaces in the aisles for water faucets, easy-to-clean wall finish, and maximum roof lighting.
When it comes to designing and building your growth facility, Robertson Building Systems can provide a single source solution and consult with you about site selection, topographic conditions, and interior and exterior design to meet long-term objectives.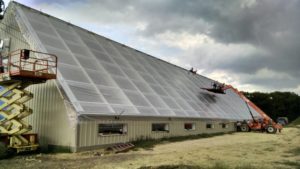 All information listed in this section was submitted by Robertson Building Systems.
Kenilworth Media Inc. and Construction Specifications Canada (CSC) cannot assume responsibility for errors of relevance,
fact or omission. The publisher nor CSC does not endorse any products featured in this article.

View original article here Source