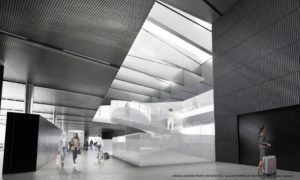 Aecon and EBC have finalized a $219 million contract with Aeroports de Montreal (ADM) to build the Montreal-Trudeau International Airport Reseau express metropolitain (REM) Station in Quebec.
The station is an addition to the city's transit system and will be a critical hub for the 67 km (42 mi) REM network, a project in which Aecon is also currently playing a key role. The scope of work includes construction, project management, and commissioning of the station shell and associated buildings to enable the concurrent REM project to access the site and complete equipment installations to commence operations.
"The REM network will improve mobility and connect communities across the Greater Montreal Area with faster and more sustainable transit, and we look forward to working with ADM and our partner to deliver this world-class project," said Jean-Louis Servranckx, president and CEO of Aecon. "This project further strengthens our presence in Quebec, as we continue to pursue significant opportunities across the province to build the critical infrastructure required to meet the needs of future generations."
Construction will begin in the second quarter of 2022.

View original article here Source