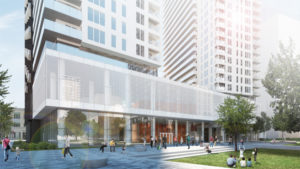 The City of Montréal is conducting a multidisciplinary architecture competition to develop the Peter-McGill Centre. The goal is to create a vibrant and revitalizing flagship project for the city's Ville-Marie neighbourhood.
The project consists primarily of transforming the interior of a base building with a footprint of approximately 5310 m2 (57,156 sf) into a vibrant centre with a fluid, intuitive layout that combines the functions of a library, cultural centre, and social and community spaces.
The project will foster and maintain a sense of belonging and representativeness in the community while emphasizing the centre's presence within the building complex, its urban setting, and the neighbourhood as a whole.
One of the challenges for the Peter-McGill Centre, as identified by key stakeholders—citizens, employees, artists, experts, and amateurs alike—is to make digital culture more people-centred and harness it as a force for social cohesion.
The project's construction budget is $13,853,942 plus taxes.
Click here to learn more about the competition. The Stage 1 (proposal file) submission is July 16, and Stage 2 (finalist presentations) will be on October 22.

View original article here Source