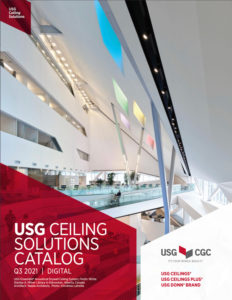 As a global leader in the industry, USG is committed to creating innovative building solutions that enable customers to design and build sustainable, inspirational, and inviting spaces.
The USG Ceilings Digital Catalogue provides design inspiration and building solutions at your fingertips. With each click, the digital catalogue features the latest innovations in USG's extensive product portfolio of acoustical panels, suspension systems, integrated ceiling systems, and specialty ceiling systems.
In addition to product information, videos, and brochures, the USG digital catalogue also provides quick access links to a variety of valuable online tools outside the catalogue, as well as installation resources.
Like the products USG creates, its digital catalogue was designed to inspire your next project by showcasing exciting examples of products that bring design vision to life, including the transformation of Edmonton's Stanley A. Milner Library pictured on the catalogue's cover. The library features our USG Ensemble Acoustical Drywall Ceiling System, chosen to ensure that ambient sound levels are kept to a minimum in this serene library space.
With almost 100 unique products that provide design freedom, easy installation, and outstanding performance, the USG Ceilings Digital Catalogue proves, 'IT'S YOUR WORLD. BUILD IT TM.' Visit our website today.
All information listed in this section was submitted by CGC Inc.
Kenilworth Media Inc. and Construction Specifications Canada (CSC) cannot assume responsibility for errors of relevance,
fact or omission. The publisher nor CSC does not endorse any products featured in this article.

View original article here Source