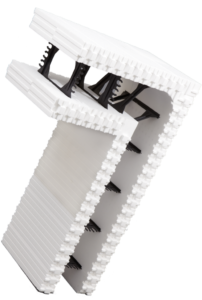 Amvic is an industry-leading manufacturer of insulated concrete form (ICF) and expanded polystyrene (EPS) insulation materials as a result of providing products that consistently exemplify exceptional quality, superior strength, and ease of installation. Since the beginning, the company has experienced increasing demand for its products which has led to rapid growth and expansion that is anticipated to continue in the future.
Net zero ready
The ICF is GreenGuard certified, which means they meet some of the world's most rigorous and comprehensive standards for low emissions of volatile organic compounds (VOCs). They are designed for use in indoor spaces that meet strict chemical emissions limits which contribute to the creation of healthier interiors.
Amvic ICF systems are an excellent alternative for environmentally friendly and long-lasting buildings. There are several elements that make Amvic ICF a preferred choice for sustainable construction.
Continuous insulation (ci) refers to a monolithic layer of insulation that eliminates thermal bridging through wood or steel studs. Energy codes are pushing for higher thermal performance values in building walls, specifically in the form of exterior CI that increases thermal performance of the wall with the elimination of thermal bridging. As a result, performance, energy efficiency, and occupant comfort are improved.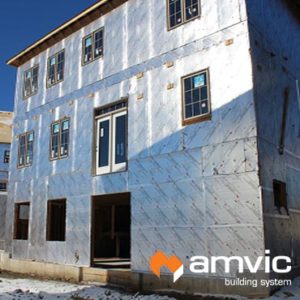 SilveRboard Graphite XS is the ideal solution to adhere to new building code requirements because it easily provides CI for structures by creating a thermal break against studs.
SilveRboard Graphite XS is an ideal rigid exterior insulation solution for contractors because:
● it offers durability during the construction process and various weather conditions;
● accepts taping that adheres quickly and permanently to SilveRboard film;
● delivers long-term stable R-value thanks to built-in air and moisture barriers;
● provides level rigid surface for exterior finish materials and is highly flexible for radius walls; and
● is lightweight and easy to handle.
SilveRboard Graphite XS holds its R-value for the life of the product; it is an ideal insulation for exterior walls in the Canadian environment.
Amvic's innovative and high-performance insulation building solutions help construct a home that is energy efficient, disaster resilient, and sustainable, ensuring the highest level of quality and comfort.
The post Innovative insulation building solutions for a sustainable and comfortable lifestyle appeared first on Construction Canada.
View original article here Source