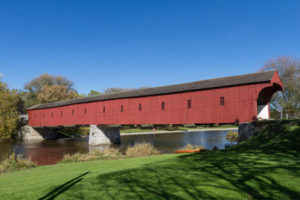 A historic Waterloo bridge is among 10 infrastructure projects receiving joint government funding in southwestern Ontario.
The Canadian government is investing more than $6.9 million toward these projects, with the Ontario government providing over $5.8 million through the Community, Culture and Recreation Infrastructure Stream of the Investing in Canada plan. The recipients are contributing more than $4.6 million, including private donations, toward their respective projects.
In the Waterloo Region, joint funding will support the rehabilitation of the heritage designated West Montrose Covered Bridge, located in the Township of Woolwich. Work will include removing and replacing steel bailey trusses with concealed steel girders, repairing and replacing the roof, and reinstalling the fire alarm system. While under construction, the bridge will be temporarily supported to preserve its structural integrity and heritage design.
In all, the project will receive $2.5 million in federal funding, $2.08 million in provincial funding, and $1.67 million from the Waterloo Region.
"The rehabilitation of the beautiful West Montrose Covered Bridge, as well as improvements to the nine other facilities announced today, demonstrates that together with our partners we are ensuring that Canadians have access to essential community services, diverse cultural experiences, and quality recreation options for years to come," said Tim Louis, MP for Kitchener—Conestoga.

View original article here Source