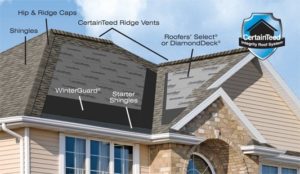 CertainTeed has been offering complete, state-of-the-art roofing solutions for more than a century, with hundreds of commercial and residential roofing options backed by industry-leading standards and in-house technical expertise. Whether your installation is large or small in cold or warm climates, CertainTeed can meet the demands of any project.
Yet, the company's solutions go beyond roofing alone. CertainTeed offers a portfolio of building products designed to work together for full-system solutions, from insulation to adhesives, coatings and membranes, and more. Plus, a single point of contact streamlines products selection, specification and installation for builders, commercial clients, installers, and homeowners alike.
Find your roofing solution at CertainTeed.
All information listed in this section was submitted by .
Kenilworth Media Inc. and Construction Specifications Canada (CSC) cannot assume responsibility for errors of relevance,
fact or omission. The publisher nor CSC does not endorse any products featured in this article.

View original article here Source