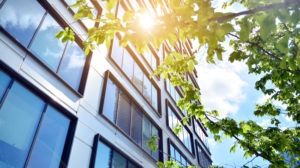 The Canada Green Building Council (CaGBC) announced the winners of its 2020 Leadership and Green Building Excellence Awards, which recognize individuals and organizations that demonstrate outstanding industry leadership and have made significant contributions to the council's mission to advance green building in Canada.
"While 2020 has brought much uncertainty, these award winners demonstrate our industry remains focused on the important work before us," said Thomas Mueller, CaGBC president. "Addressing the need for sustained climate action, resilient buildings and communities, and human health and well-being will be critical in the decade ahead."
The winners of the 2020 CaGBC Leadership Awards are:
Andrew McAllan, consultant with Oxford Properties, won the Lifetime Achievement Award;
Samantha Menard, manager, energy team, EQ Building Performance, earned the Emerging Green Leader award;
Mohawk College is winner of the Inspired Educator award;
the City of Vancouver civic buildings won the Government Leadership award;
Paul Frith, director of advocacy and sales, Geosource Energy, is winner of the Volunteer Leadership – Chapter award;
Stephani Carter, founder and owner, EcoAmmo, is the Green Building Champion award winner;
BentallGreenOak and RWDI won the Green Building Pioneer award;
Grant Peters, partner and manager of green building services, Fluent Group Consulting Engineers and councillor at Town of Orangeville, Ont., won the Ed Lim Technical Leadership Award; and
Colin Pinchin, Pathways project, won the Students Leading Sustainability: Andy Kesteloo Memorial Project Award.
The winners of the 2020 CaGBC Green Building Excellence Awards are:
the University of Calgary MacKimmie Complex Redevelopment, Calgary, Alta., won the Zero Carbon Award;
Le Phénix, Montréal, Qué., won the New Construction award;
Humber College Building Nx, Toronto, won the Existing Building award;
West Bay Passive House, West Vancouver, B.C., won the Inspiring Home award; and
mcCallumSather workspace, Hamilton, Ont., won the Tenant Improvement award.
Winners will be recognized throughout Building Lasting Change 2020, taking place online on five consecutive Tuesdays from September 22 to October 20.

View original article here Source