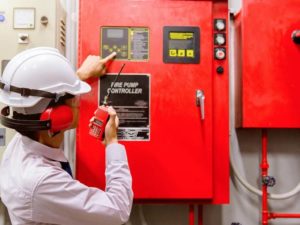 It is important for buildings to be safe and to operate efficiently. It takes a thorough understanding of complex issues such as regional code requirements and hidden maintenance needs. The Underwriters Laboratories (UL) covers multiple areas of a buildings construction with building inspections services.
UL's building inspection services provide building owners and facility managers with the information they need to identify building compliance gaps, identify where improvements are needed to maintain compliance with fire and life-safety codes, security, and air and water quality requirements. This ultimately delivers confidence in building and occupant safety and the continuity and sustainability of the business. Our menu of services covers all the needs for the life cycle of the building.
Fire, life safety, and security inspections
Gap analysis of building fire, life safety, and security systems through building design, construction, and maintenance helps to reduce risk of fire, life safety, and security failures and breaches that could result in harm to life, property, and litigation.
Alarm certificate services and alarm hub
Fire and security alarm companies are certified for their ability to install, maintain, test, inspect, and monitor alarm systems, provide runner service, and communicate with the proper authorities.
For more information, visit www.ul.com/offerings/building-inspection-services.
All information listed in this section was submitted by Underwriters Laboratories (UL).
Kenilworth Media Inc. and Construction Specifications Canada (CSC) cannot assume responsibility for errors of relevance,
fact or omission. The publisher nor CSC does not endorse any products featured in this article.

View original article here Source