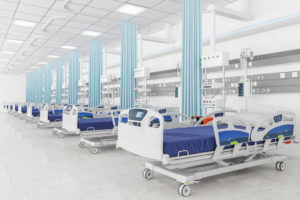 Health care has been in the spotlight like never before.
Whether you work in health care or are a patient or visitor, a comfortable, safe, and sanitary environment is essential.
Acoustical panels can have a profound impact on how a room feels, looks, and sounds.
USG Mars Healthcare and Halcyon Healthcare Acoustical Panels offer a combination of sustainable esthetics and outstanding performance. Panels are impact and scratch resistant, durable, and easy to clean, achieving Food and Drug Administration (FDA) standards and exceeding Facility Guidelines Institute (FGI) protocol for health care. The water-repellent membrane delivers excellent noise reduction, sag resistance, and high light reflectance with a ClimaPlus 30-year limited lifetime warranty against visible sag, mould, and mildew. Non-directional panels reduce installation time and waste, meeting sustainability standards as part of the EcoBluePrint portfolio.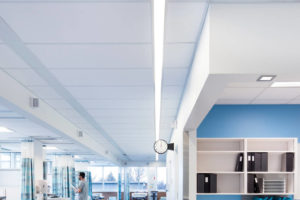 See USG's extensive line of ceiling products. Mars Healthcare and Halcyon Healthcare are GreenGuard Gold certified for low-emitting performance. Mars Healthcare's high noise reduction coefficient (NRC) and high ceiling attenuation class (CAC) provides excellent sound control that assists in addressing the Health Insurance Portability and Accountability Act (HIPAA). Halcyon Healthcare are made with plant-based binders and provide high sound absorption NRC which helps address HIPAA standards.
Standard applications include: nurse's stations, waiting rooms and treatment rooms, kitchen and food prep areas (meeting United States Department of Agriculture [USDA]/Food Safety and Inspection Service [FSIS] guidelines), lavatories and restrooms, laboratories, administrative offices, patient rooms, and clean rooms (up to International Organization for Standardization [ISO] 5 [Class 100]).
The post Building comfortable spaces for health care heroes with acoustical panels appeared first on Construction Canada.
View original article here Source