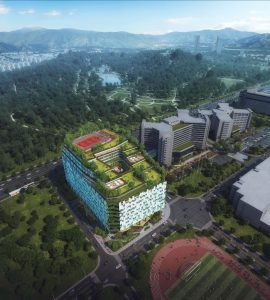 B+H Architects have won an international competition to design the new Shenzhen Children's Hospital and Science and Education Building, Shenzhen, China. This is a joint venture with the East China Architectural Design & Research Institute (ECADI).
The existing Shenzhen Children's Hospital has been a landmark in the Futian area of Shenzhen since it was established in 1998. The new building, located to the west of the existing campus, creates a 'once-in-a-lifetime' health-care facility to support the delivery of top-quality care for children, as well as to provide a new home for advanced research and learning in pediatric medicine.
At the very heart of the design is a desire to experience this building through the eyes of the children who will be going there.
B+H's integrated design approach weaves a cohesive response throughout, from site master-planning to the architecture, medical planning, and interiors, with special emphasis on the integration of landscape design.
Taking inspiration from the mountains in the distance, the new building adopts a gently terracing approach with the upper floors stepping back to create multiple sky gardens.
On the ground floor, an 'urban living room' connects the hospital to the surrounding community, playing host to a wide array of public spaces and activities for patients, visitors, and passers-by. Meanwhile, the colourful graphic applied on the canopy above is a reminder of the nearby park and the joy it brings to the people of Shenzhen.
One key element of the new design is the introduction of the vertical 'secret garden' intended to enthrall young eyes and provide a welcome distraction to patients and their families during the healing process.
The building design also celebrates the ground-breaking clinical, science, and research activities that will happen within, and collaboration between staff is key to this success. A cluster of social and interaction spaces for staff are provided at the northeast corner of the hospital.
Collaboration is prioritized between clinical staff, researchers, and students. Research is placed on the same floors as inpatient wards, providing proximity to patients with a 'lab bench to bedside' approach. At the junction of the ward and research zones, a 'collaboration zone' houses formal and informal education and social spaces for staff to mingle, share, and learn together.
Vertical connections are streamlined and ensure smooth operations with a high volume of outpatient clinics placed at the lower floors to reduce lift traffic, while staff living spaces are located on the upper floors.

View original article here Source