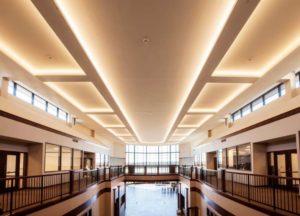 Framing drywall ceilings in small or crowded spaces can be a real challenge without the right product, so it is important to understand your options for these types of jobs.
"Unfortunately, in construction, any kind of 'challenge' usually results in a delay and/or increased costs, and no-one wants that," said Jay McBurney, product manager, CGC Inc. "That is why we created USG Ceilings Drywall Suspension System. It is ideal for framing both interior and exterior flat ceilings, as well as more complex shapes such as stepped soffits and curved ceilings. It is the perfect solution for awkward spaces and minimal plenum height where other products fall short."
The USG Drywall Suspension System installs faster than traditional framing methods such as cold-rolled hat and track channel. Its knurled face facilitates screw attachment and it is designed to easily frame type F and G light fixture openings, for added speed and convenience. It is also available in pre-engineered custom shapes to make framing curved drywall ceilings such as vaults, valleys, domes, and arches fast and easy. It is also fully compatible with all Donn® Brand Acoustical Suspension Systems for an easy transition from wallboard ceilings to acoustical tile ceilings, where required.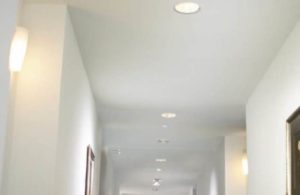 USG's Drywall Suspension System is ideal for installations with tight clearance or plenum space complexity such as those typically found in corridors and hallways, dormitories, multifamily residential builds, condos, restrooms, utility rooms, and loading docks. It works well in corridors because it spans up to 2.43 m (8 ft) without the need for cross Ts, hanger wires, or other intermediate supports. The system also reduces the number of hanger wires required for longer spans of up to 6 m (19.6 ft).
USG's Ceilings Drywall Suspension System is a solid alternative to traditional framing methods. It meets or exceeds ASTM C635, Standard Specification for Manufacture, Performance, and Testing of Metal Suspension Systems for Acoustical Tile and Lay-in Panel Ceilings, and ASTM C645, Standard Specification for Nonstructural Steel Framing Members, is listed in more than 60 Underwriters Laboratories (UL) fire-rated designs, and is building code compliant per the International Code Council Evaluation Service Report (ICC ESR) 1222. It also comes with a limited lifetime warranty when used with Sheetrock® Brand Gypsum Panels.
"When ceiling space is tight or busy and you need a quality solution that is fast and easy to hang, USG Drywall Suspension System can turn a challenge into a breeze," said McBurney. "As well, it can help keep the job on track and on budget."
All information listed in this section was submitted by CGC Inc.
Kenilworth Media Inc. and Construction Specifications Canada (CSC) cannot assume responsibility for errors of relevance,
fact or omission. The publisher nor CSC does not endorse any products featured in this article.

View original article here Source