Project Highlights:
Owners: Develop Nova Scotia
Location: Peggy's Cove, NS
Project Closing Date: February 3, 2021
Pipeline Connection: PL18-0365NS
CANSnet ID: NS21-0075
About the Project:
The Accessible Viewing Deck is a key piece of the Peggy's Cove Master Plan focused on creating a safe and accessible visitor experience.
The viewing deck and railings will be made of wood and steel, materials that will last and are complementary to the rugged terrain. The rail guard will be steel knit pattern that resembles fish net. It will be set into the landscape and take the shape of the rock to avoid overshadowing the real attraction at Peggy's Cove, the landscape and lighthouse. The area will create a public space where people can view the lighthouse and experience the waves and rocks in a way that is fully accessible and safe.
The design has been developed in close collaboration with the community and the work is being led by Develop Nova Scotia and is funded by Tourism Nova Scotia's Tourism Revitalization of Icons Program (TRIP), the Province of Nova Scotia, and ACOA.
WATCH — Peggy's Cove: Accessible Viewing Deck Preview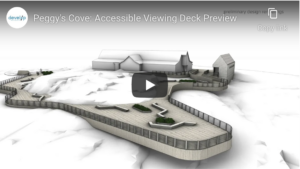 View original article here Source